Orange Blossom Tour
Classic Cars • great roads
Experience the old Florida you never knew existed.
Join the owners of Classic Motorsports magazine as they proudly show off Florida's finest back roads and destinations–those hidden gems known only to longtime residents.
This classic sports car tour combines great locations with explorations of historic sites and inside looks at private automotive collections–and connects them all via twisty back roads.
Immediately preceding the famed Amelia Island Concours weekend, there's no better time to enjoy what made Florida famous.
Classic sports cars, great roads, fun people, blue skies and the intoxicating aroma of orange blossoms in the air. Ah, springtime in Florida…
Worried about the details? Don't: That's where we come in. From start to finish, our trained staff will transport your luggage, accommodate any special requests, and even take your selfies if you'd prefer. You'll also have the undivided attention of our team of expert mechanics, just in case your car has any mechanical issues or needs a tow. We even have a loaner vehicle, which you're welcome to drive if your car can't be quickly fixed.
When
March 1-5, 2020
Where
Hub-style tour based in Howey-in-the-Hills, Florida
Price
$4995 (two guests, double-occupancy)
All lodging, meals (except dinner on Wednesday) and attractions included.
The Orange Blossom Tour is Presented by:
Learn More About the Orange Blossom Tour:
We'll be in touch shortly to answer any questions you have and walk you through the registration process.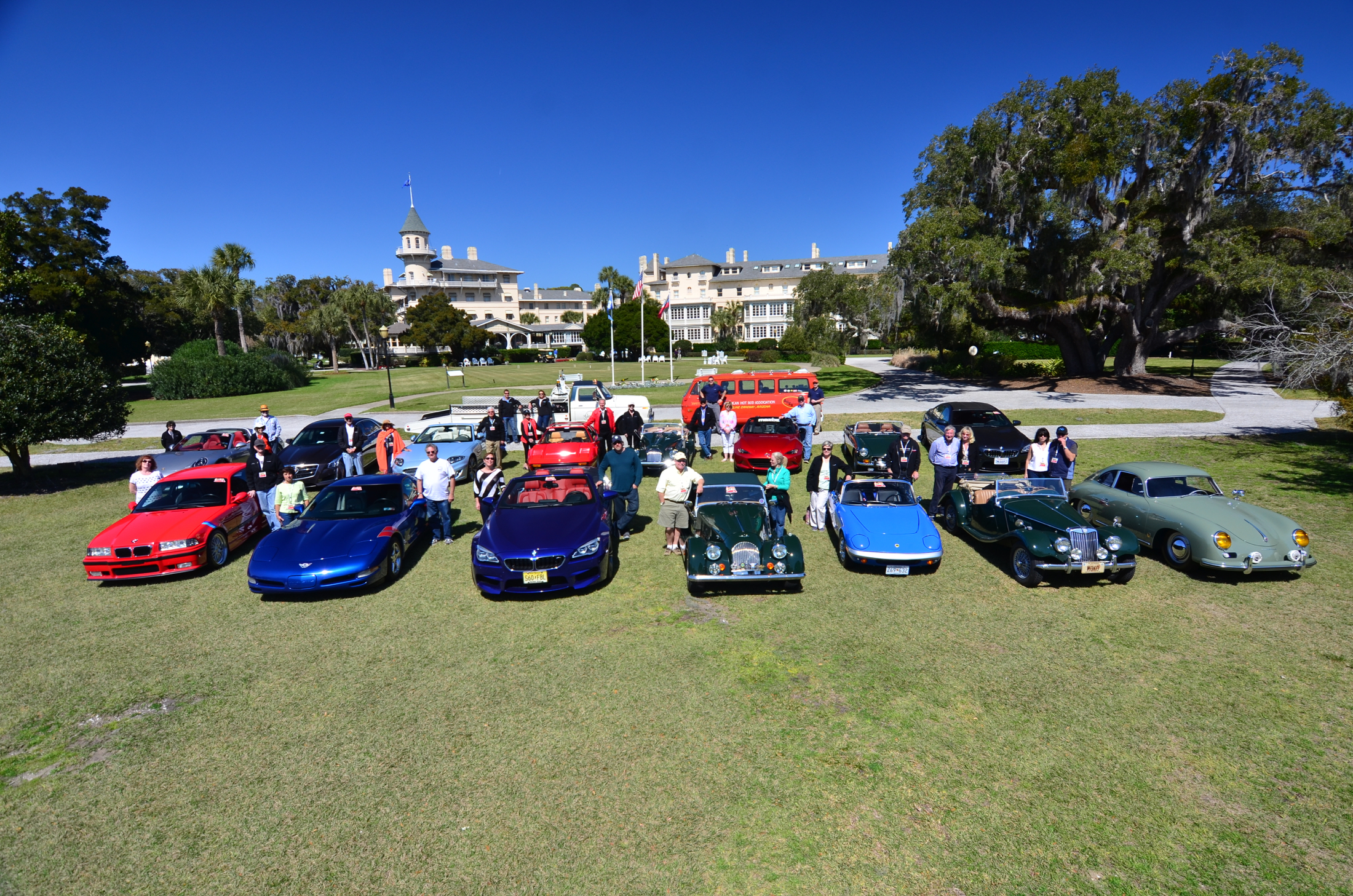 Event Itinerary
Day 1: Sunday, March 1, 2020
We welcome you to Mission Inn, an award-winning golf resort and spa set amid lush, manicured grounds in laid-back Howey-in-the-Hills, Florida. This will be our base for the week's hub-and-spoke style tour. Get in an early round of golf or tennis, or visit the beautiful pool area, before a gathering late in the afternoon gives us all a chance to look over the cars and get to know one another. After that we'll enjoy a welcome dinner under the stars in the courtyard.
Day 2: Monday, March 2, 2020
After a delicious breakfast we will head south into citrus country and a chance to experience the heady smell of the orange blossoms that give this tour its name. We will stop to view a private car collection before heading on to lunch in Lakeland. This delightful Florida town is home to one of the largest collections of Frank Lloyd Wright's buildings in the world. After we savor the architecture, we will head to the Fantasy of Flight museum, where we will get a private tour as well as the chance to fly in a nearly 100-year-old biplane.
Day 3: Tuesday, March 3, 2020
Today we are in for some true old Florida treats. First up is Weeki Wachee Springs, where we will take in the famous mermaid show and explore this beautiful state park. From there we will head over to Florida's west coast and the Crystal River area, where we will follow an amazing road that winds through the mangroves and oyster beds to a truly fantastic old Florida seafood shack. We'll have dinner at a grand historic home in Central Florida.
Day 4: Wednesday, March 4, 2020
Wednesday we'll head north into the Ocala National Forest, where we'll follow the twisty forest roads to towns like Citra, Orange Springs, Fort McCoy and Cross Creek. The latter is where "The Yearling" author Marjorie Kinnan Rawlings had her home, and we'll take a step back in time and into literary history as we tour it. Lunch will be at the iconic Yearling restaurant before we turn back to our resort home. Dinner will be on your own tonight to give you some time to explore.
Day 5: Thursday, March 5, 2020
Central Florida is dotted with cool, crystal-clear springs, and they're a don't miss for visitors. We will stop by Blue Spring, known for the herds of endangered manatees that winter in its stable temperature. We will continue our look at old Florida with a tour of the Thursby House, which dates from 1872, and also take a nature cruise to see alligators and other flora and fauna that make our state so special. Once back at the resort, our farewell dinner awaits.
Register for the Orange Blossom Tour
We would love to host you on our Orange Blossom Tour. To sign up, just fill out the form below and click submit. We will contact you within two business days to complete your registration and collect your deposit.
Entry Fees
Deadline for all entries is
February 1, 2020
Entry Fee
$4995 (1 driver and 1 co-driver, double occupancy)
$3750 (1 driver, single occupancy)
$6095 (1 driver and one co-driver, single occupancy)
A $1665 deposit will be collected to secure your place on the Orange Blossom Tour.
Final balance is due 30 days before the tour commences. Cancellations within 60 days before the start date forfeit the deposit; cancellations within 45 days of the start date forfeit half the total tour price. Cancellations within 7 days of the start date forfeit the total price.
By entering this event, the driver, entrant owner, and/or co-driver agree to permit Classic Motorsports the use of their name, voice and/or likeness for news features and publicity including radio, television, printed media and in connection with advertising or editorial.
Want to send in your entry through physical mail? Just print this page and fill it out.
Once this form is complete, you can mail it back to the address below:
Orange Blossom Tour Registration
915 Ridgewood Ave.
Holly Hill, FL 32117